I've been looking at some FABULOUS blogs lately and just had to share the wealth. Look at these when you have an entire afternoon to waste, okay? Or don't and do something really productive. Ha!
There is so much funness on this blog.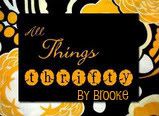 Recently found
QA Design
. I fell in love. And serious? Look at the price! I'm so getting this!
(
source
)
Here is another super fun blog. There is a lot to dive into this one, too.
Don't go to the following websites if you are hungry. I'm serious! You will regret it!
I haven't made a thing from this website that we haven't liked!
If you have other fun blogs or websites, send them my way!!